One day while her father was playing the guitar (remembering his days when he played in a band and had that dream), Selena walked in and started singing along while her father played. Already her brother AB (Abraham, III) was practicing the bass guitar and her sister Suzette was already started practicing the drums. Selena had her heart on singing and she wanted in too! Right away Abraham knew Selena had a gift~a talent of singing that would one day take her somewhere.
The group became known as Selena y Los Dinos. They soon started playing at a restaurant, called Papa Gayo's, that Abraham owned. After the business went out of business in 1981, they moved to Corpus Christi (from Lake Jackson) and began touring.
Selena meanwhile was becoming a superstar. Her songs would make #1 and she sold a lot of records. She won the hearts of everyone, including those (like me) who don't understand the language she sings! The one person who won her heart was Chris Perez. He was the guitar player in her band. Her dad was NOT happy at first with the union. He tried firing Chris only to see how sad it made Selena. Four months of misery and saddness and her father welcomed him back. He told him that he could be with Selena so long as they marry and moved in the house next door. On April 2, 1992, she and Chris eloped. She was 21 and he was 22. She wore a Coca-Cola jacket and he wore a white shirt. They were married by the Justice of Peace in Nueces County.
Selena was working on her crossover album when sadly it all ended with one bullet. On March 31st, Yolonda Saldivar shot and killed her. Selena, one who was making it big with her crossover tour, her boutique was successful (was thinking of opening a third store in Mexico) and a happy marriage...her and Chris were thinking of starting family. All ended with one bullet.
Selena is still very popular today. Her biography movie, starring Jennifer Lopez told a lot of people of how Selena was-sweet, beautiful and talented! She still lives on amongst all of us thru sites like this, her music and thru her fans! This site is dedicated to Selena.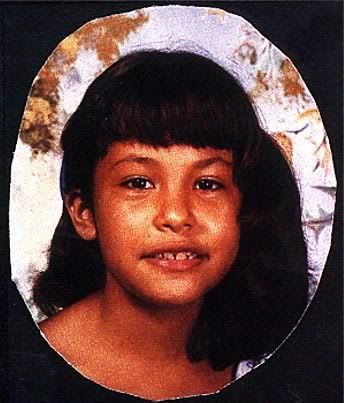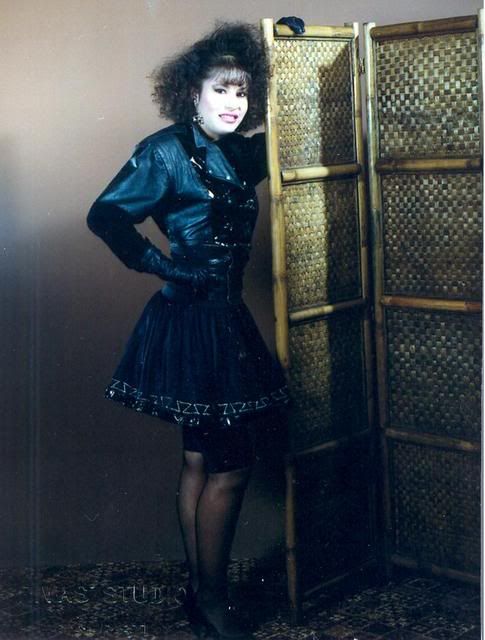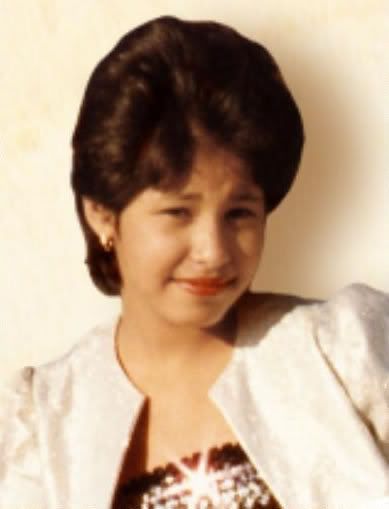 selena recording
note-the infamous egg ring on her hand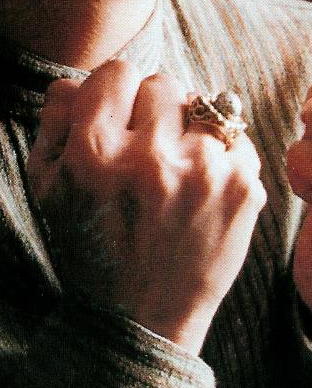 I became a Selena fan about 1997-98. I watched her movie before that and liked her music. I started buying different CDs of hers and then really got into her music. I now collect her stuff. I have all three dolls, blanket, t-shirts, the drag race cars, books, posters, clippings from mags, mugs, cups, Coke bottles and albums. She was a beautiful woman! My husband and our 7 year old daughter are also fans-and I even got my best friend, DeAnna, liking her too! Our daughter, Marlena, loves to sing along with Selena with her microphone (which can be a pencil or hairbrush). In fact she performed the song Dreaming of You at her school this past Valentine's Day! I think the death of Selena was unneccessary. Yolanda used to be a nurse, but yet she didn't try to stop the bleeding. You know, if I "accidently shot" someone, I would try (and I am a nurse) to do what I could to help. And, if the gun had a hair-line trigger, how come it didn't (I wish!) go off when she was in her truck, holding it to her head during the stand-off??? That is the thing that makes me mad when I think about. It was so not fair that a beautiful woman died because of selfishness. Selena was a giving person. If money was needed, I am almost sure she would of gave it!
I would love to hear from other Selena fans! You can sign my guest book or email me at selenawannabe2@yahoo.com
My favorite Selena songs:
Amor Prohibido
No Me Queda Mas
Si Una Vez
Buenos Amigos
I Could Fall in Love
thanks to Amykins!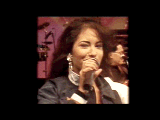 borrowed fromhttp://groups.msn.com/selenaphotostorage/selenagifs